So you're not a crafter, baker, seamtress or artist? So you wanna give eco-friendly gifts that have some love and meaning, but you just don't have the skills to make them?
Well - welcome to the fabulous Austin, Texas Craft Scene! This first weekend of December kicks off some of the best Holiday Shopping Events in the ATX. Here is my personal guide of events to hit up this weekend! Since I am fortunate enough to not have a show this weekend - you just might see me out and about :P
In case you're wondering where to get fabulous
*annemarie*
mini wallets, cosmetic bags and one-of-a-kind purses, you can view a sampling of my work on my
ETSY SHOP
, at
Parts & Labour
, or next weekend at the
Cherrywood Art Fair!
Acknowledge Me
Sat. Dec 6th, 8pm to 2am, The Mowhawk
$6, or $5 with a donation.
This is the 2nd year of this alterna-craft fair - featuring handmade gifts, live music, vegan food and a warm clothing drive for the homeless. Bring a warm hat, gloves or new toiletry items and get $1 off admission.
*Favorite Artist* Diane Petkoff of
Tasty Jewelry
Pictured above, her adorable bauble magnets!
Bazaar Arte
Sat & Sun, Dec. 6th & 7th, 12pm to 9pm at
The Me
xic-Arte Museum
Free Admission
Located on the Main Street of Austin - Congress Avenue - The Mexic-Arte Museum is a landmark of the Austin Art Scene. Join the festivities of the Capitol Tree Lighting and marvel at the beauty of our fair City. Stroll into the Bazaar Arte show for a treat of colorful and inspiring art. The event features an exciting raffle and party Saturday night with SALSA DANCING and DJs. Sounds fun!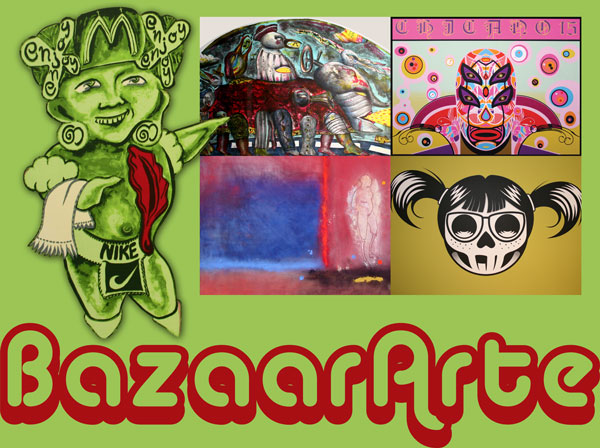 *Favorite Artist*
Limbo Jewelry
by Edson Zinser Enriquez. You may have seen Edson set up next to Vespaio on First Thursdays. I have been a fan of his jewelry for a long time - he has a very unique organic style.
Bouldin Creek Studio Tour
Sat & Sun Dec 6th & 7th, 11am to 5pm
Private Studios - visit website for a map and gallery of artists.
Free Admission
Artists from Bouldin Creek and the surrounding areas will open their doors once again on December 6th & 7th for the Third Annual Bouldin Creek Studio Tour. Just in time for the 2008 holiday season, this two-day sale gives the public a rare glimpse inside the creative workspaces of Bouldin Creek's finest artists, craftspeople and creative mavens.
From Yelp.com
*Favorite Artists* Leslie Bonnell of
The Stitch Lab
and Natalie Tischler of
Ornamental Things
Travis Heights Art Trail
Sat & Sun, Dec 6th & 7th, 11am to 5pm
Private Studios - visit website for a map and gallery of artists.
Free Admission
This is the first I have heard of this show - and it looks great! Taking a cue from other successful studio tours, the historic, funky and fabulous neighborhood of Travis Heights is showing off their collective artistic talent.
*Favorite Artist*
Lisa Eisenbrey
Lisa's work is also new to me, but her website, Easy to Enchant, says it all! She makes multi-media retro inspired but modernly cheeky artwork that is sure to thrill any friend with a sense of humor.
Thornton Road Holiday Art Show
Friday, Dec 5th, 5pm to 1pm (SNACKS AND BEVERAGES!)
Saturday, Dec 6th, 11am to 5pm
Free Admission
This show is in its 16th year, and features mostly ceramic artists. Look for great serving platters, bowls and sculpture.
*Favorite Artists* Claire Fielden & Leigh Navarro
My highlighted artists are Claire Fielden - whose jewelry & pottery I ADORE, and Leigh Navarro who makes slick, stylized enameled metal pendants.
Wheatsville Arts Festival
Sat & Sun, Dec 5th & 6th, 10am to 5:30pm at
Adams Park
Free Admission
Okay - for all of you who have moved to Austin in the past 10 years because it was a *cool* *laidback* place - Wheatsville is part of what makes Austin what it is. One of the original and still standing TEXAS HIPPIE landmarks, the Wheatsville Food Coop has been serving up delicious food and organic treats forever.
This Arts Festival is one of the longest running in the ATX. This year's show is bigger than ever - with 75 Artists! Live music all day - family friendly, and Centrally Located. Bust out that tie-dye and granola!
Favorite Artist*
Pigsey Art
*************************
If you are a local ARTIST looking for a Spring Show - don't forget to apply for
The Bearded Ladies Present: Shop Austin!
Our website is rockin' and we will feature each and every artist with a lovely picture, link to their site and blog post! Get noticed and join forces with us!
xo, Anne Marie
www.AnneMarieBeard.com
www.TheBeardedLadiesPresent.com